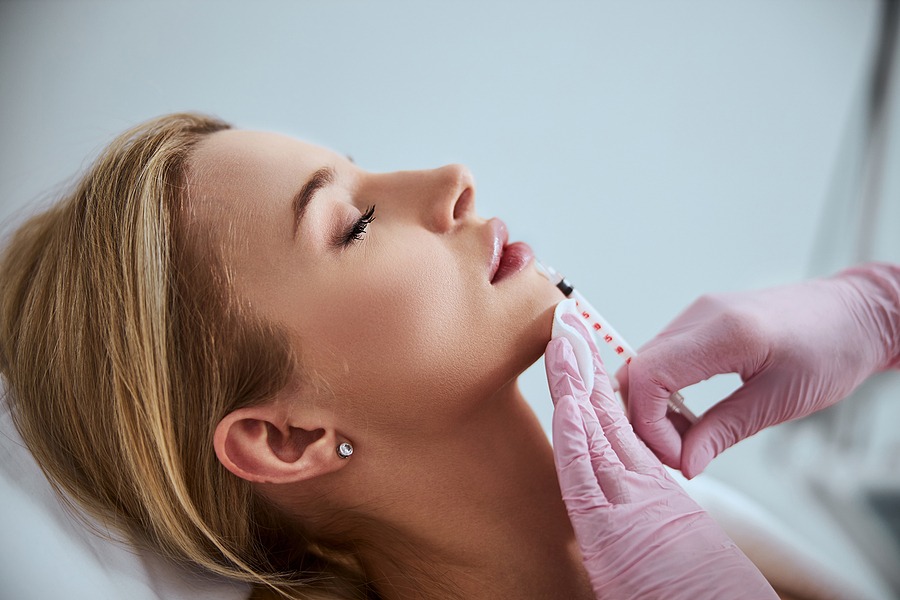 How Long Do Dermal Fillers Last?
A common question from dermal filler patients is "How long do dermal fillers last?" The best answer to this seemingly simple question is "It depends."
Result duration can significantly differ from patient to patient based on a number of factors including the type of filler used, which area of the face is treated, and the patient's own metabolism level. It also depends on the area the filler is placed. If the filler is placed in a high movement area such as the lips then the filler will not last as long.
Here's a simple chart showing the average length of time that results last for the fillers from Aesthetic Creations:
| | |
| --- | --- |
| Filler Type | Average Duration |
| Juvederm Ultra | 6 to 12 Months |
| Radiesse | 12 to 18 Months |
| Restylane | 6 to 12 Months |
By Filler Type – Result Duration
Different fillers provide varying duration of results as illustrated in the table above. The variations in the length or results are due primarily to differing materials used in each brand's formulation, along with the consistency of the filler (thicker fillers tend to last longer). However, it's important to keep in mind that result duration is merely one of many factors to consider as fillers also differ in their ability to address specific aging symptoms or be used in specific facial areas.
By Facial Area – Result Duration
The area of treatment will also impact how long filler results can last. Here's a basic summary of how long fillers typically last in each facial area:
Lips: There are many different fillers for lip augmentation (i.e. lip injections). Popular choices include Juvederm Ultra and Restylane-L, both of which can last up to 12 months.
Eyes: Hyaluronic acid-based fillers like Restylane used to treat the eyes (including the tear trough area) typically last around 12 months.
Nose: Nose enhancement through a "liquid rhinoplasty" procedure can be performed with Restylane, which can last anywhere from 9 to 12 months.
Cheeks: Restylane used to enhance the cheeks can last up to 15 months.
Corners of Mouth: Hyaluronic acid fillers like Juvederm and Restylane produce great results, with both fillers lasting up to 1 year in the area.
Chin: Chin augmentation procedures using Radiesse often last between 16 and 24 months.
How to make Dermal Fillers Last Longer

The only way to indefinitely keep the results of fillers is to undergo periodic "maintenance" treatments. The simple touch up injections can be performed just as the results begin to wear off.
Additionally, simple habits like wearing sunscreen daily, eating a healthy diet, and practicing a good skin care regimen (shown below).
What is a Good Skin Care Regimen that helps results last longer?

The benefits of injectables (like many other cosmetic treatments) will last longer for individuals who properly take care of their skin. Patients who moisturize daily and stay hydrated by drinking plenty of water will enhance the water-absorption effect of hyaluronic-based fillers, helping treated areas remain plump and wrinkle-free!
In addition to moisturizing, choose skincare ingredients that stimulate collagen production and protect your skin from free radicals. A stronger skin structure helps prolong the effects of toxin or dermal fillers. Antioxidants like Vitamin C also protect against damage from sun and pollution.
Look for collagen-boosting ingredients such as retinol or collagen peptides. You'll find these ingredients in moisturizers, cleansers and serums.
Not all Cosmetic Injection Specialists are the Same
While Botox is not as complicated as cosmetic surgery, choosing a heavily discounted service or new injectionist may save a few pennies; but can also have less than satisfactory results. For this reason, you want to have any work of this type done by a Cosmetic Injection Specialist with medical credentials such as Rose Streeter, RN, BSN. With over 21 years of injection experience and a nursing background, Rose stays on the leading edge with continuous training and education in medical aesthetics. She is professional and conservative by nature and can help customize your treatment to your individual needs. Her studio is private, with no waiting room, providing a comfortable atmosphere.
Release Your Inner Beauty – Schedule today!
If you are bothered by the site of fine lines and wrinkles when looking in the mirror or believe your lips, cheeks or folds between the nose and mouth could use more volume, reach out to Aesthetic Creations, Inc. today. Call 720-301-0417 to schedule your consultation, or book online at www.rosestreeterrn.com.