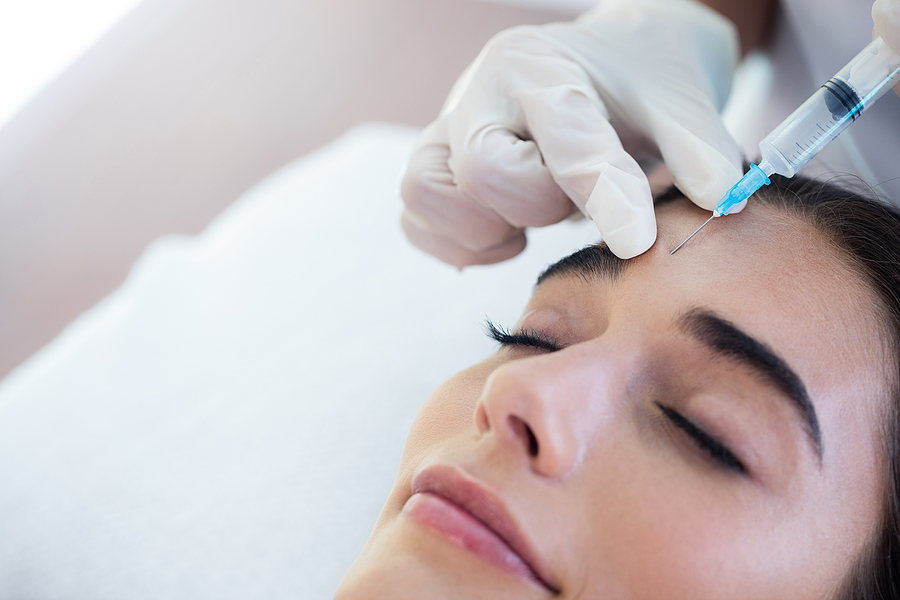 At Aesthetic Creations, Inc. , one of the most asked questions, is what is the difference between Botox and Injectable Fillers? How do you choose the best treatment for your needs?
So in this article, we try to provide some key guidance in making this choice, and provide some information to help. Both solution are excellent non-surgical cosmetic procedures with no recovery or downtime for reducing fine lines and wrinkles, but they each have their best uses.
Let's Talk about Botox
Botox is a neurotoxin, specifically the brand name of a specific botulinum neurotoxin. While that may sound scary, but it's actually very safe when handled and injected properly by a Cosmetic Injections Specialist with medical credentials. Basically, Botox works by making facial muscles relax by blocking the signals that make them contract.
Botox is best is best used in areas of facial expression such as those lines that are caused by muscle contractions such as crow's feet, frown lines, and the "11" lines between your brows, and horizontal forehead lines. Other popular non-cosmetic uses include injections in the armpits that can help stave off hyperhidrosis (excess sweating), and injections in the jaw muscle to help prevent teeth grinding caused by TMJ, or Temporomandibular Joint Syndrome.
Now – What are Injectable Fillers?
Injectable fillers are gel-like products that fill folds and creases and replenish lost volume. They can also contour the face. Most of them are comprised of hyaluronic acid, which is a naturally-occurring substance in our skin. Hyaluronic acid is a naturally occurring polysaccharide found in the human body. It acts as a cushioning and lubrication agent for our joints, nerves, hair, skin, and eyes. When used in skincare, it acts as a moisture binder, which means that it will attach itself to the water in the cells (while also attracting and holding water from the air) making them plump.
So which is the best choice?
The effectiveness of either procedure depends on what you're in need of. Botox, for instance, can be used preventatively (ie. even before you're really noticing any deep-set wrinkles), and is best for those lines that are caused by muscle contractions such as crow's feet and frown lines and the "11" lines between your brows.
Injectable Fillers are best for eliminating wrinkles that are not due to muscle contractions in areas of the face that are at rest. The most common areas for fillers are under the eye, cheeks and jawline. Fillers are also excellent for injecting in your lips to restore lost volume and create full, voluptuous lips as well as the lines between the side of your nose and mouth.
The Ideal Solution – Combining Them for Best Results – and How they last
Frequently, the use of Botox versus Injectables is not a one-or-the-other situation. Because they are ideal for different types of lines, a cosmetic professional may sometimes recommend a combination of these two treatments together to get you the best possible results. You will start to see the wrinkle-reducing results from Botox in about 2-3 days to two weeks whereas you see results from Injectable Fillers immediately. The effects of Botox last about three to four months whereas Injectable fillers can last 6 months – 1 year on average, and 2 years plus with subsequent treatments!
Not all Cosmetic Injection Specialists are the Same
While Botox and Injectables are not as complicated as cosmetic surgery, choosing a heavily discounted service or new injectionist may save a few pennies; but can also have less than satisfactory results. For this reason, you want to have any work of this type done by a Cosmetic Injection Specialist with medical credentials such as Rose Streeter, RN, BSN. With over 21 years of experience and a nursing background, Rose stays on the leading edge with continuous training and education in medical aesthetics. She is professional and conservative by nature and can help customize your treatment to your individual needs. Her studio is private, with no waiting room, providing a comfortable atmosphere.
Release Your Inner Beauty – Schedule today!
If you are bothered by the site of fine lines and wrinkles when looking in the mirror or believe your lips, cheeks or folds between the nose and mouth could use more volume, reach out to Aesthetic Creations, Inc. today. Call 720-301-0417 to schedule your consultation, or book online at www.rosestreeterrn.com.