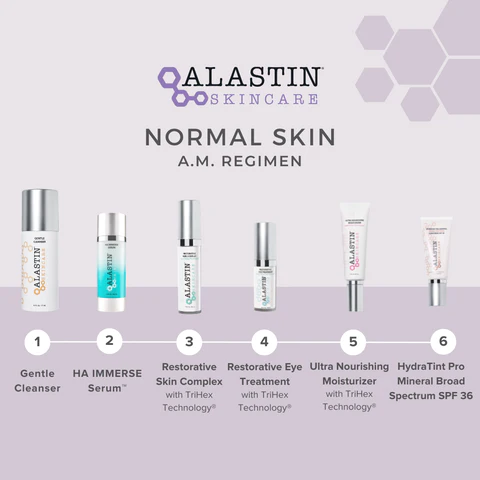 Believe it or not, the ORDER of your skincare regimen steps truly matters. In order to maximize effectiveness, and get the ideal results, it is so important to layer your products properly, when you have multiple steps.
To help with this, Aesthetic Creations, along with Alastin Skincare, would like to provide a guide to use your product in the correct order in both your morning and nighttime routines.
Depending on your needs and goals, the products you use in your routines will vary, but the basic order should be: cleanser, serums, retinol (PM only), moisturizer, and sunscreen (AM only). Your day and night skincare routine will differ thanks to your skin's changing needs and the appropriateness of products for sunlight and sleep.
Your Morning Skincare Routine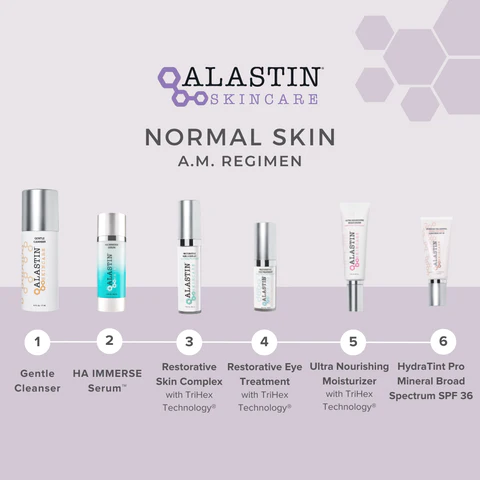 Throughout the day, your skin is exposed to UV rays, blue lights, pollution, dirt, grime, and more. Your morning routine should refresh your skin while helping to protect it from the day ahead.
Step 1: Cleanse
Washing your face and neck first thing in the morning with a daily facial cleanser can clear away oil and grime that accumulates while you sleep. This step also helps prepare your skin to absorb the beneficial ingredients in your skincare regimen. Use a cleanser that will remove pollutants without stripping your skin. Alastin Skincare's sulfate-free and self-foaming Gentle Cleanser helps to remove impurities while calming the skin.
Step 2: Serums
Next, you want to apply formulations that deliver targeted benefits to help improve the look and feel of your skin. Here's where your anti-aging serums come into play. Remember to address your full face as well as delicate (and often neglected) areas like your eyes, neck, and chest.
We recommend powerful products that have multiple benefits in a single bottle. Consistency in skincare is key, and the fewer steps you need to achieve great results, the more likely you'll be to stick to a regimen.
Alastin Skincare's Restorative Skin Complex with TriHex Technology® helps improve all visible signs of aging. Apply one pump to help reduce the appearance of fine lines and wrinkles, even out your skin tone, and improve texture. The proprietary TriHex Technology® works with the skin to clear out damaged elastin and collagen while supporting the skin's natural ability to produce new, healthy elastin and collagen.
For the eye area, Alastin Skincare's Restorative Eye Treatment with TriHex Technology® helps decrease the appearance of fine lines, crow's feet, and wrinkles, while helping to reduce the look of puffiness and dark circles. Dab one pump around your eye areas and gently pat into the skin.
For the neck and chest, Alastin Skincare's Restorative Neck Complex with TriHex Technology® helps smoothness, tighten, and evens out skin tone. Apply one pump in upward strokes.
Step 3: Moisturizer
All skin types need a good moisturizer to help lock in the skin's moisture and prevent water loss throughout the day. Because moisturizers tend to be thicker, they need to be applied last to seal in your other products and maximize their effectiveness. Look for moisturizers with added benefits like Alastin Skincare's Ultra Nourishing Moisturizer with TriHex Technology®, which supports the production of new elastin and collagen. Apply one pump to the face and gently massage into the skin.
Step 4: Sunscreen
Arguably the most important product in our arsenal, sunscreen should be used every single day to protect your skin from sun damage, such as the aging effects of UV radiation. Look for sunscreens with an SPF 30 or higher like HydraTint ProMineral Broad Spectrum SPF 36 Sunscreen. This all-mineral sunscreen is lightweight, grease-free, reef-friendly, and can be used in place of makeup (or as a primer) thanks to a tint that works for most skin types.
Your Nighttime Skincare Routine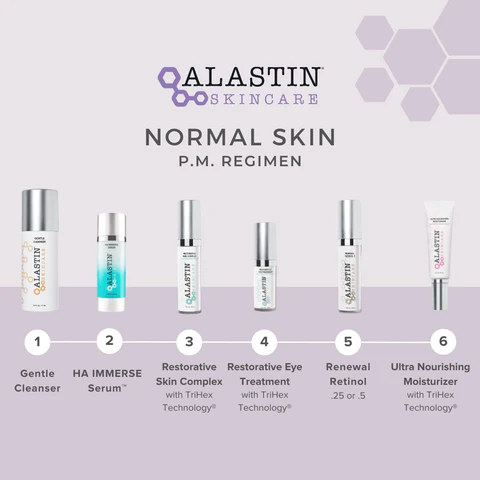 The order of your nighttime skincare routine will be similar to your morning regimen with a few exceptions: You won't have to worry about UV radiation while you sleep, so there's no need for sunscreen. Plus, it's best to incorporate retinol products in the evening only as they break down in the presence of UV light.
Here's what your night skincare routine should look like:
Step 1: Cleanser
After a day of facing natural air pollutants, microscopic dirt and grime, and makeup, your skin needs a good cleanse. Don't forget to use a cleanser that won't strip your face and neck of its natural oils, like Alastin Skincare's Gentle Cleanser.
Step 2: Serums
You're cleansed, toned, and prepped—now it's time to restore nutrients before you hit the hay. In the evening, just repeat your morning restoration routine: For your face, use Alastin Skincare's Restorative Skin Complex; for the delicate skin around your eyes, dab one pump A of Alastin Skincare's Restorative Eye Treatment, and for your neck and chest area, apply one pump of Restorative Neck Complex in upward strokes.
Step 3: Retinol
Retinol helps reduce the look of fine lines and wrinkles, but it's only effective when used in the evening as the active ingredient isn't stable in the presence of UV light. Some retinol products can be a bit drying and you may experience skin purging (which isn't a bad thing) due to increased cellular turnover. Use retinol products (just a pea-sized amount) two or three times a week to start. To help combat the potentially drying effects, look for easily tolerated, hydrating formulas. Alastin Skincare's Renewal Retinol is packed with hydration and can help smooth away wrinkles, improve skin texture and uneven skin tone.
Step 4: Moisturizer
Finish off your evening routine with a moisturizing night cream to help hydrate and repair the look of skin as you sleep. You'll only need one pump of Alastin Skincare's Ultra Nourishing Moisturizer to give your skin hydration and a healthy dose of peptides.
Ready to upgrade your skincare regimen with Medical Grade Skincare Products, like Alastin Skincare?
It's time to start your journey toward healthier skin. Reach out to Aesthetic Creations, Inc. today, and we would be happy to provide some medical grade skincare recommendations for your specific needs, and give you access to the latest products, specifically made for your skin type.
Call 720-301-0417 to schedule your consultation, or book online today.